Dog Exercise Pens: Create a Smarter and More Balanced Puppy or Dog!
The positive aspects of dog exercise pens are many. You are giving your puppy or dog the ability to exercise, while teaching them boundaries, and creating a way for them to more easily interact with you. You are also creating a more stimulating environment. Stimulation, in puppies and dogs, results in dogs that problem solve and adapt more readily to their environment and to training!
If you are looking to give your puppy or dog a way to more fully interact with you and your family, while providing a stimulating environment and more mobility than a crate, a dog exercise pen is a good choice. A dog exercise pen works especially well if you have had problems with crates, puppies or dogs that are high energy, destructive chewers, or have a large breed dog.
So, how do you find the right pen for your dog among so many choices? Some pens require assembly. Still others don't work for different size dogs. Others are not meant for outdoor use, or may not be suitable for delicate floors and carpets. And what about travel? Which dog exercise pens are best for traveling and camping?
Related: Crate Training Your Puppy or Dog
Be assured that choosing the right dog exercise pen, isn't that difficult if you consider some of the most important factors, which include: a pen that is durable, the correct size and length, easy to assemble and take down, and one that is made specifically for the needs of your family and their lifestyle.
Why are Dog Exercise Pens Important to Training Your Dog?
Dog Exercise Pens or Pet Playpens are an integral part of training your dog and are so versatile that they can be used for different stages of a puppy and dog's life. The benefits of a dog exercise pen are:
Keeping your puppy or dog confined to an area you have designated, either indoors or outdoors.
Keeping your puppy or dog from access to your couch, chairs, furniture and out of sensitive areas of your home.
Housebreaking your puppy and, your dog in some cases.
Providing a confined, safe, area to exercise your puppy or dog indoors, or out.
Providing you a break from watching your pet.
Providing your puppy or dog a chance to more readily interact with their environment and their owners which makes them less anxious, less fearful, and more receptive to training.
Providing your puppy or dog a more stimulating environment by providing a less confined space and the ability to add more toys and items to interact with than crates.
What Should You Look for When Purchasing  Dog Exercise Pens?
How high are the panels – choose your panels according to an adult dog size (not a puppy size). Panel height can generally range from 24″H to 48″H. Even if your dog is of a smaller height, likes to jump, or try to test the borders of their pen, or an escape artist (jumps over fences), then buying medium to higher size panels, 36″H (medium) or 42″H-48″H (large, and x-large) will work better for you. Also, you may want to invest in a top for dogs that jump.

Indoor or Outdoor usage or both – will your exercise pen be durable to withstand indoor and/or outdoor use? If you are going to keep your pen outdoors, please consider getting a top for your pen and using pen anchors to stabilize the pen. Some dog pens come with anchors, so consider purchasing a pen that comes with ground anchors (which will save you money).
Size – what is the total size (width and length) of the pen and do you need additional panels to create a larger sized dog exercise pen? Measure your area before you order and order additional panels if necessary.
Do I need a pen that folds for easy transport or storage? If you will be transporting your dog pen, consider buying one with handles which is far easier for transporting than picking up the dog pen by the metal gauge wire.
Does the pen assemble and tear down easily? Folding crates work better than non-folding or stationary pens.
Do you have small children and need to keep them from getting into the pen? Consider purchasing a pen that has a child-proof gate!
What gauge is the wire, or how sturdy is the pen? Generally, the smaller the number, the thicker the wire. If your dog likes to chew, don't buy a plastic pen – (purchase some toys and get a thicker wire pen).
You will also have peace of mind knowing you have contributed to creating a more balanced and happier dog. Consider the above and then choose a dog pen. Below are dog exercise pens based on the different needs of both your dog, you, and your family.
Recommended Dog Exercise Pens Based on Reviews, Durability, and Price:
North States Pet 34 Sq ft Petyard
North States Pet 7 Sq Ft Petyard – Waterproof
(SMALL DOGS ONLY – READ WHY)
The MyPet Petyard Passage 8 panel is our top pick for versatility and ease. Easy to set-up and take down and customizable,  it can enclose up to 34.4 square feet if using all panels, and is 26 inches high.
When assembled with 8 panels, it comes to 7 feet. If you like, you can let your pet come and go as they please using the door option, or lock it to contain your puppy or dog.
Setting up the MyPet Petyard Passage is easy, using the panel system. The configurations are multiple and can be used for puppy training as well as your dog's play area.
Best of all, if you have carpet or don't want to scuff your floors this exercise pen may work great for you.
This is our pick for smaller dogs because of the height 26″.  If your medium to large dogs like to jump, they may be able to get out of this pen. 
"Very sturdy and solid. Keeps by Boston Terrier puppy confined and there is plenty of room for his crate, placemat for food and water, pee pad and some toys. It's taller then the Iris brand but not as tall as the tallest iris brand so it's a good midsized height."
This pen works well for:
Puppies and Small dogs
Recommend indoor use only
Traveling
Easy to assemble and take down
Additional panels for creating larger or smaller spaces
Features:
Encloses up to 34 square feet, 26″ High
Small door swings freely or locks for containment
Small door swings freely or locks for containment
Add or remove panels in Multiple configurations for all stages and phases of your pet's life
Comes complete with skid-resistant pads, won't slip or scratch, works on any surface
Includes a convenient carry handle which makes this lightweight yard easy to take anywhere. Material: Plastic
MidWest Exercise Pen with Door, 30-Inch, Black
   (SMALL to MEDIUM Dogs)
If you are on a budget, or looking for an economical solution to buying other expensive dog exercise pens and have a small to medium dog, this pen will work well for you. Designed to use indoors or out, the rounded parts work on delicate laminate flooring and carpet, and the free anchors help to keep your pen stabilized, anchored, and in place for outdoor use. Recommended you get the higher panel size of 30″ even if you have a small dog.  
The Midwest Pen Dog Exercise Pen panel frame is durable and has a black e-coat finish. The black e-coat finish protects against corrosion. In addition, this durable pen has a safe double-latch door which is perfect for getting food and water quickly and easily into your pen. No exposed screws, wires or pins. Only uses 4 bolt snap connectors for easy setup so you are not fumbling with extra parts. All pens include outdoor grass anchors for added stabilization. Easy folding, no tools needed to setup or take down.
"Very easy to set up and then fold up when finished." "It is perfect for potty training puppies."
This pen works well for:
Puppies and Small dogs
Indoor/Outdoor Use
Traveling and Camping
Dogs who are active – easily add additional panels
Features:
Unique double-latch door
Comes with 8 panels – a great value
Removable pin allows you to add additional pens for added play space
Folds flat, No exposed screws, wires or pins. Suitcase style folding for easy transport
Free outdoor grass anchors
North States Superyard 3 in 1 Metal Gate 
(SMALL Dogs) *Can be used for children as well :-)*
If you have small children and are looking for a secure, easy to install dog exercise pen that is gentle on indoor carpets and floors, this dog exercise pen will work well for you. The pen has a childproof lock and a swinging panel which means it can be opened very easily. In addition it can be mounted or used as a gate to prevent access to areas of your home.
Unique for its sheer versatility, the North States Superyard includes six metal panels that can be set up in a wide variety of configurations. Weighing 43 pounds, the structure is solid enough that it won't tip or lean and lightweight enough to be moved from room to room. Set it on carpet, tile, or even a hardwood floor — it includes rubber pads to prevent scratching.
"It was easy to install and is very sturdy." It is nice that this pen can be set up in a variety of shapes – we have tried it in an octagon, a rectangle, and a square."
This pen works well for:
Puppies and Small dogs
Children (not kidding)
Indoor/Outdoor Use
Dogs who are ok with a confined spaces
Delicate hardwood floors and carpets
Easily movable from room to room
Childproof lock means your children won't be playing in it (unless you want them to)
Features:
Comes with six removable and adjustable panels; encloses up to 10 square feet and is 30 "es high
Optional two panel extensions are available and will increase the size from 10 square feet to 19 square feet Unlimited two panel extensions may be used
Can also be hardware mounted as an extra wide barrier or fireplace screen
Swinging walk thru door panel is built with a child proof double locking system allowing easy access
3 in 1 Metal Superyard is a great playard or play area for your young toddler or small pets, both indoors and outside
 Precision Pet 36 in. Ultimate ExPen Black Boxed
(MEDIUM OR LARGE)
If you are looking for a durable dog pen for dogs that are active or anxious, or likely to chew, this dog pen is a good choice. It has a durable black coating which resists corrosion and works well for dogs who like to jump. (Extra sturdy, for large dogs who like to test the borders of their pens and chew. Optional top for jumpers – 42″ model) Durable long lasting black coating.
"Works well for the purpose intended." "For someone who has an anxious rescue this is much better then a crate." "So, even though she is now strong enough and tall enough to jump it or knock it over, she doesn't."
This pen works well for:
Medium and Large Dogs

Indoor/Outdoor Use
Traveling and Camping
Optional top for jumpers
Dogs that are active and test borders
Dogs that chew on wire
Features:
The 3-point locking door has a removable drop pin which allows pen to be easily joined with other pens or crate for extra play space

Great for traveling and camping
Folds flat in either direction with a dual folding hinge for easy transportation and storage
Easy carry handle for transporting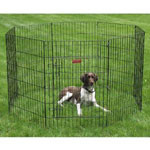 ProSelect Epoxy Everlasting Exercise Dog Pen with Door, 36-Inch, Black
 (MEDIUM OR LARGE)
If your dog has a problem being confined, likes to try and climb out of dog pens, or has escaped from dog pens, this pen is a good choice. It has narrow wire spacing which makes it more stable and the door latches work to keep your pet from testing the doors on this pen and from escaping through them, which happens with some pens and the flimsy door latches they provide. Also works great as a pen to section off areas of your home which normal baby gates don't work on because they are not high enough.
The Proselect Everlasting Dog Exercise Pen is a secure way to keep dogs contains in backyards, at dog shows, or on the go. Durably constructed of 7 and 10-gauge wire with a long-lasting black epoxy finish. 1-1/2-inch by 6-inch narrow wire spacing provides rigidity and security. Door provides easy access for pets and features dual, escape-proof locking latches. Eight strong, 24-inch wide panels create a spacious 16-square foot area. Create larger areas by adding extensions or by linking two or more pens together. Available in black color. Included 3 snap bolts to close end panels. This panel measures 24-inch width by 36-inch height.
"Better than expected." "A great buy." "Great Ex-pen with door." "Nice for a patio or garden."
This pen works well for:
Medium and Large Dogs
Indoor/Outdoor Use
Sturdy
Durable Finish
Dogs that like to try and escape
Dogs that are active – easily add additional panels
Features:
This everlasting exercise pen is a secure way to keep dogs contains in backyards, at dog shows, or on the go
Durably constructed of 7 and 10-gauge wire with a long-lasting black epoxy finish
1-1/2-inch by 6-inch narrow wire spacing provides rigidity and security
Door provides easy access for pets and features dual, escape-proof locking latches
This panel measures 24-inch width by 36-inch height
Which dog exercise pen will work best for you? Here are some recommendations:
Small to Medium Dogs:
Indoors for Small Dogs: North States Superyard Indoors/Outdoors (for delicate floors and carpets, easily movable and childproof)
Camping/Traveling for Small to Medium Dogs: Midwest Dog Exercise Pen Indoors/Outdoors
Medium to Large Dogs:
Indoors for Medium/Large Dogs: North States Superyard Indoors/Outdoors if you are worried about small children getting into your dog pen, or very delicate floors and carpets and ONLY if  you purchase additional panels for medium and large dogs 

Indoors for Medium/Large Dogs:  Everlasting Dog Exercise Pens Indoors/Outdoors with Extra Panels for dogs who like to move around or try and escape
Camping/Traveling for Medium/Large Dogs: Precision Dog Exercise Pens Indoors/Outdoors